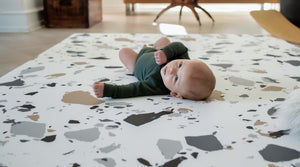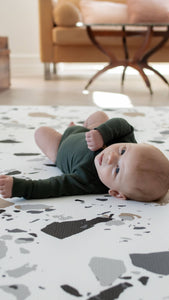 Play more together
Beautifully designed play mats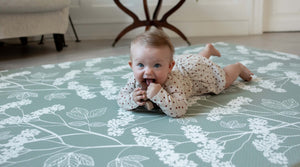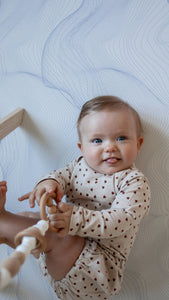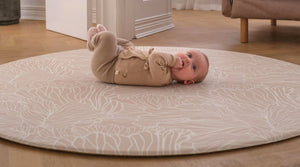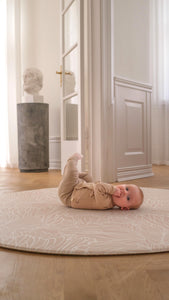 New size
Now also available in round sizes
The collection
See our range of stylish, reversible play mats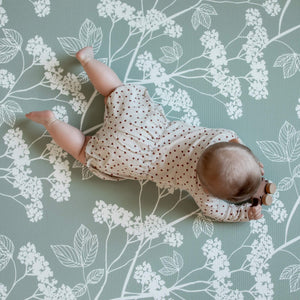 Safe & supportive
Soft but supportive
Our mats are made from a supportive, non-toxic memory foam that has been tested to the highest standards to guarantee they are safe for your baby from the start. They provide protection and support for the little bumps that will be along the way when your baby starts to lie on his stomach, sit, crawl, take his first steps, etc.
Safe for newborns
Our mats are tested according to the European standard EN 71 in the Toy Directive. It is one of the highest European standards in toy safety requirements. This means that our mats have undergone the same safety tests as those required for your child's teething toys or pacifiers.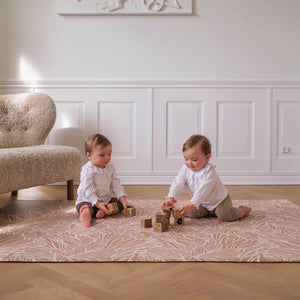 Play mats for your child and yourself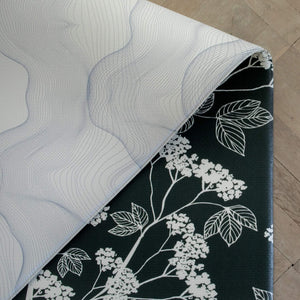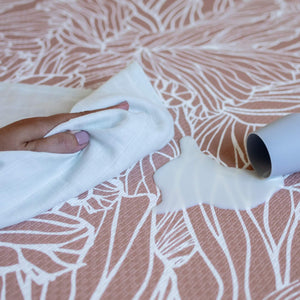 Reversible mats
All our mats have two great designs and are even easy to keep clean. The mats are practical and easy to wipe with a cloth.
Learn more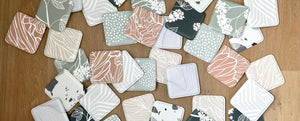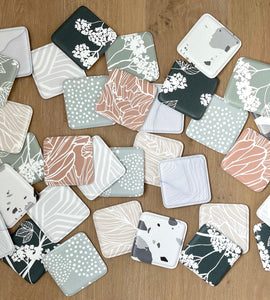 Is it difficult to choose a color?
Order a free sample to see a selection of our mats at home - just pay for shipping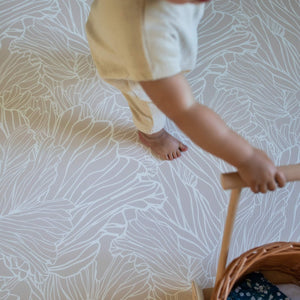 Nordic design
Inspired by the beautiful Danish nature
Each mat is individually designed with a desire to add a little beauty to the room where you choose to play with your child. We want to bring play into the heart of the home and create a soft, safe place for your child without compromising on style and design.
A play floor for the whole family
There are so many things for our children in eye-catching, bold colors. We have instead created these mats to bring a little elegance into the play environment. Each mat is reversible and has two unique designs created by our talented designers, so you can flip it every day and choose the style that suits your mood.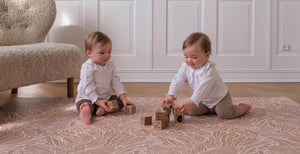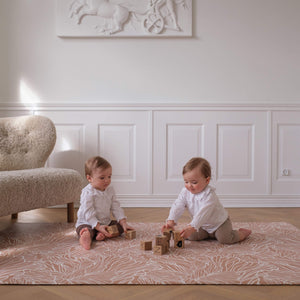 Hyggi Blog
Informative articles from various experts in their field
Kundeanmeldelser
Læs nogle af vores kundeanmeldelser, direkte fra Trustpilot
Much more than a play mat

"Much more than a play rug for babies. So fantastic, which can be used for many, many years, even when the children are big. The quality and comfort are super delicious. I love it ❤️I hesitated a little to buy because of the price, but it's all worth the money. Wow 🤩"

— 

Marlene
"Really nice mat, it can be highly recommended. Can be used both for baby, children and training. I'm really happy with it."

— 

Bettina
"Before we just had the regular gathering mats, which got so ugly and really collected a lot of dust 😅. Now my daughter and I spend most of our playtime on the mat. My boyfriend even uses it for stretching exercises after he works out. Huge win! "

— 

Gina
"Really nice mat. Makes it easy to create "room in room" so that toys are not everywhere, as the little one seeks out to play on the mat himself. Fast delivery too."

— 

Ronja